Depression is a serious and complex mental health condition that affects millions of people worldwide. It can have a profound impact on a person's emotions, thoughts, and physical well-being.
   Types of Depression
Major Depressive Disorder (MDD): Also known as clinical depression, this is the most common form of depression. It involves persistent feelings of sadness, hopelessness, and a loss of interest in activities that once brought joy.
Persistent Depressive Disorder (Dysthymia): A milder but long-lasting form of depression that lasts for at least two years.
Bipolar Disorder: A condition that includes depressive episodes alternating with periods of mania or hypomania.
Seasonal Affective Disorder (SAD): Depression that occurs seasonally, often during the winter months when there is less natural sunlight.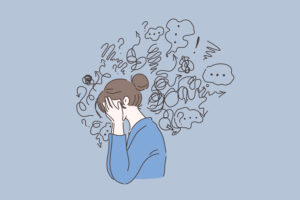 Causes of Depression
Biological Factors: Imbalances in neurotransmitters (e.g., serotonin, norepinephrine) in the brain can play a role.
Genetic Predisposition: A family history of depression can increase the risk.
Environmental Factors: Stressful life events, trauma, loss, or chronic stress can trigger or exacerbate depression.
Chemical Imbalances: Hormonal changes, chronic illness, or certain medications can contribute to depression.


Symptoms of Depression

Persistent sadness or a low mood
Loss of interest or pleasure in activities
Changes in appetite or weight
Sleep disturbances (insomnia or hypersomnia)
Fatigue and low energy
Feelings of worthlessness or guilt
Difficulty concentrating and making decisions
Thoughts of death or suicide
Physical symptoms like aches and pains
    Diagnosis: A diagnosis of depression is typically made by a mental health professional, such as a psychiatrist or psychologist, based on a thorough assessment of symptoms and their impact on daily life.
    Treatment Options
Psychotherapy: Different forms of talk therapy, such as cognitive-behavioral therapy (CBT), interpersonal therapy, and dialectical-behavior therapy, can help individuals understand and manage their depression.
Medication: Antidepressant medications, such as selective serotonin reuptake inhibitors (SSRIs) or serotonin-norepinephrine reuptake inhibitors (SNRIs), are often prescribed to help alleviate symptoms.
Lifestyle Changes: Regular exercise, a balanced diet, adequate sleep, and stress management can all contribute to improved mood and mental health.
Support Groups: Participating in support groups can provide a sense of community and understanding for individuals with depression.
Electroconvulsive Therapy (ECT): ECT is considered for severe, treatment-resistant depression and involves controlled electric currents to the brain.
     Coping Strategies
Self-care: Engage in activities that promote your well-being, such as exercise, hobbies, and relaxation techniques.
Social Support: Maintain connections with friends and family, and reach out for emotional support.
Avoid Substance Abuse: Substance abuse can exacerbate depression, so it's essential to avoid alcohol or drug misuse.
Monitor Your Thoughts: Cognitive-behavioral techniques can help you challenge and reframe negative thought patterns.
Establish Routine: Structure and routine can provide stability and a sense of control.
Recovery: With appropriate treatment and support, many individuals with depression can achieve significant improvement and even full recovery. However, it's important to understand that recovery may be an ongoing process, and relapses can occur.
Depression is a complex condition, and its management requires a multi-faceted approach. If you or someone you know is struggling with depression, it's crucial to seek professional help and support.
Depression is treatable, and with the right treatment and coping strategies, individuals can lead fulfilling lives.